Hog Time Studio is used to record all the smash hits from Hog Time Music. It is located in the residence of the Head Hog, Ralph Goff.
Here's a picture of a previous setup (with the AW16G). The current one doesn't look as good. I'm in temporary quarters now and not using the nice studio table shown here. Click on the picture for a larger one.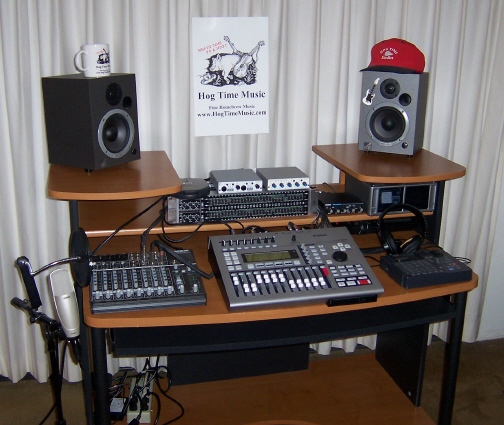 Current Equipment Used Most:
Yamaha AW1600 16 track hard disk recorder (nice unit, but out of production .... bummer)
FMR Audio RNP preamp and RNC compressor

Event PS5 monitor speakers

Presonus Monitor Station

Microphones: Shure SM-57 & KSM-32, Crown CM700, Rode NT5 matched pair & NT2A, Shiny Box 46MX Ribbon, AKG C3000

SE Electronics Reflexion Filter Microphone Baffle

Headphones: Sony MDR-V6, Direct Sound Extreme Isolation, Sennheiser HD280 Pro
Prior Recording Units:
Yamaha AW16G 16 track hard disk recorder (November 2003 -> November 2007)

Sony MDM-X4 4-track minidisk recorder (Before November 2003)

Tascam 4 track cassette unit
Other Equipment Available (but not used much):
Instruments
Acoustic Guitars: 1969 Martin D18, 1963 Gibson Southern Jumbo, Taylor 812C

Electric Guitars: Squire Telecaster, Lap Steel

Mandolins: 1984 Flatiron A5Jr, Collings MT
Recording Technique:
I usually record all tracks on my AW1600 hard disk recorder and mix them down (using built-in reverb and EQ) to a stereo track. Then I transfer the stereo track to my PC (via USB) and use the Sony Sound Forge program to "master" them. The only mastering I usually do is use a compressor/limiter to boost the average volume some.
Lately I have been making extensive use of Band-in-a-Box (BIAB) software on my laptop PC to generate full or partial rhythm tracks for my songs. I started out using it mainly for bass guitar and percussion, since the MIDI sounds for them sounded "acceptable". However, BIAB has recently made an incredible leap forward and you can get real instruments played by real people on your own songs! I fill in a chord chart with the chord changes for my song. Then I select a tempo and music style I want (country, blues, etc). BIAB makes a rhythm track with appropriate instruments that follows the chord changes! I then transfer the individual instrument tracks to the AW1600 for mixing.
Basically, what happens is that the program "picks out pieces" of a prerecorded track for each instrument and assembles them into a full song. It's incredible! I can get pro level pickin' any time I want. When I use BIAB in this fashion, I call my band "The Hog Time Pickers".
Feel free to ask any questions or make any comment on the recording operation.